DOES YOUR LIFE RETURN TO NORMAL AFTER RECOVERY FROM COVID-19?
Covid-19 is a serious virus that is affecting every part of the world. So far, it has no specific cure, but some of its patients are being recovered through different interventions.The World Health Organization (WHO) stated that in case of mild infection of Corona Virus, the patient may recover in about two weeks but in severe cases, patient may take two to six weeks to recover from the virus.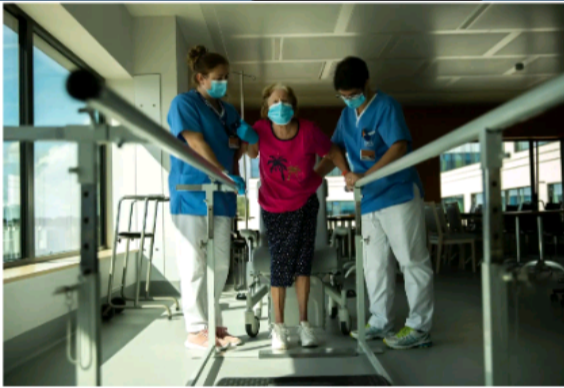 Image: A patient recovered from Covid-19 in rehabilitation at the MontLegia hospital in Liege, Belgium. Accessed from nytimes.com(2020)
Patients are discharged from the hospital when they show negative viral load in two consecutive tests and no longer have symptoms. The recovery time estimated by WHO is just, the time an infected person takes to recover from the symptoms of COVID-19 in the hospital. However, the actual recovery may take a much longer time.
Are there some complications after recovery?
Lack of energy, breathlessness and loss of appetite have been reported in people who were previously infected and have recovered from COVID-19. Due to the damage caused by the virus to the lungs and other organs, the body takes time to recover and get back to its former state.
In addition, many patients face neurological, cognitive and emotional issues. We have patients who come in and tell us: 'I can't concentrate on work. I have recovered, I don't have any breathing problems, I don't have chest pain, but I can't get back to work because I can't concentrate.' Dr. Zijian Chen, the medical director of the new Center for Post-Covid Care at Mount Sinai Health System in New York stated.
Can I get Covid-19 more than once?
WHO stated that there is currently no evidence that people who have recovered from COVID-19 and have antibodies are protected from a second infection.
Is a patient recovered from Covid-19 safe to be with others?
"It is now generally thought that about 10 days after the test that's positive, if you have no symptoms, no fever, you can be considered no longer contagious," Dr. William Schaffner, an infectious disease expert at Vanderbilt University in Tennessee, told Healthline.
The Center for Disease Control and Prevention(CDC) says that, a safe time for a person recovered from COVID-19 to be around others, depends on a number of factors. Those who have had COVID-19 and had symptoms can be around other people at least 10 days since onset of symptoms, if they have had at least 24 hours without fever without the use of fever-reducing medications. They should also wait until symptoms have improved. For those who tested positive but had no symptoms, they can be around other people 10 days after the positive test.
In addition, people who are immunocompromised should talk to their doctor about whether they need to stay isolated for more than 10 days. Those in this category can be with others after receiving two consecutive negative test results at least 24 hours apart.
Advices for patients recovered from Covid-19
Perseverance is important. "What we don't want is for patients to go home and lie in bed all day," Dr. Lauren Ferrante, a pulmonary and critical care physician at Yale School of Medicine Said.
You have to work on familiarizing your muscles by doing physical exercises. On the other hand, in case of developing cognitive problems, you need to drop everything and work with your neuropsychologist intensively."
Thus, after recovering from Covid-19, the person can experience different complications like lack of energy, shortness of breath, lack of appetite and different cognitive problems, but, life returns to normal soon or later depending on the severity of the previous condition. Furthermore, everyone is still strongly advised to follow the public preventive measures to fight against new Covid-19 infections.
References:
1. WHO(2020). Coronavirus disease (COVID-2019) situation reports. Available at: https://www.who.int/emergencies/diseases/novel-coronavirus-2019/situation- reports. Accessed 24th July 2020.
2. WHO(2020). Immunity passports" in the context of COVID-19. Available at: https://www.who.int/news-room/commentaries/detail/immunity-passports-in- the-context-of-covid-19#:~:text=There%20is%20currently%20no%20evidence,from%20a%20second%2
0infection. Accessed 23rd July 2020.
3. Elizabeth, P(2020). When Is It Safe to Be Around Someone Who's Recovered from COVID-19? Available at: https://www.healthline.com/health-news/when-is-it-safe-to-be-around-someone-whos-recovered-from-covid-19#How-to-navigate-the-recovery-period. Accessed 23rd July 2020.
4. Firstpost(2020). Life after COVID-19: What the road to recovery from the coronavirus looks like. Available at: https://www.google.com/amp/s/www.firstpost.com/health/life-after-covid-19-what-the-road-to-recovery-from-the-coronavirus-looks-like-8398841.html/amp. Accessed 23rd July 2020.
5. Pam,B (2020). Here's What Recovery From Covid-19 Looks Like for Many Survivors. Available at: https://www.google.com/amp/s/www.nytimes.com/2020/07/01/health/coronavirus-recovery-survivors.amp.html. Accessed 23rd July 2020.
6. Carrie,M(2020). What Does Recovery From COVID-19 Look Like? Available at: https://www.yalemedicine.org/stories/covid-19-recovery/. Accessed 23rd July 2020.
7. Had Covid but recovered (2020). Had COVID but recovered. Can live a normal life right away? Available at: https://www.scb.co.th/en/personal-banking/stories/tips-for-you/recover-covid.html. Accessed 23rd July 2020.
Writer: Sandrine Abisange Iragena from University of Rwanda