Mental Health Crisis during COVID-19: A Voice of Medical Practitioners to Be Heard
"Together we can fight and defeat COVID-19", a famous phrase made by citizens and leaders during this period of COVID-19 that is rarely conceptualized. For the past few months, the world has been battling against a pandemic, the coronavirus. This deadly virus, also known as COVID-19, has emerged from Wuhan in China, and spread around the whole world. Transmitted through respiratory droplets, COVID-19 keeps affecting the global population with 19,196,733 confirmed cases as of August 2, 2020 (Tarlton, 2020). The virus has socially, politically, and economically affected the globe. However much, the governments, non-government institutions and the civil society jointly rose to find solutions, less concern has been shown to the mental well-being of health care providers. This article addresses mental health issues faced by health care providers, the lesson for the world to learn from the experience, and what needs to be done to reduce the likelihood of suicide among health care providers. It draws examples from a global perspective.
Medical practitioners were reported to have been among the high-risk groups in susceptibility to mental distress during COVID-19 (Tarlton, 2020). This makes sense because health care providers are in high demand to care for those who have contracted the virus as the world struggles to find a cure. However, since the goal of medical practitioners is to prolong life and relieve the pain of their patients, seeing patients die in front of them is one of the hardest things. Even though people die in hospitals under normal circumstances when treatment fails, it becomes a problem when some are dying, and one is unable to help those who are still alive. A good example would be Dr. Lorna Breen, a 49-year old American doctor who committed suicide on April 26, 2020. She got infected, recovered and went back to work as a doctor (CNN, 2020). Though she had no medical history of mental health issues, frustrations from COVID-19persuided her to take her life. It was all because she felt helpless despite her efforts not to mention that new cases and deaths kept increasing on a daily basis. Her story is similar to that of other doctors like Dr. Yelena Nepomnyashchaya from Russia and EMT John Mondello, a 23-year old American who later also committed suicide due to the horrors of the virus (Elwafaii, 2020).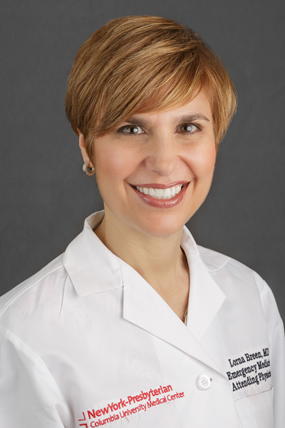 Dr. Lorna Breen, one of the doctors who committed suicide(source: CGTN)
No matter how many stories about mental health have been reported, the world seems not to have learnt from it. Issues are solved not only because they are reported but also owing to the fact that there are enthralling discussions around them. During the lockdown, across the world there have been campaigns against unemployment, domestic violence, poverty as well as other different areas which have been affected; however, less campaigns targeted mental health of medical professionals as an issue on its own. Of course, mental health awareness campaigns to the general public are there, but we should be considerate that the mental health of people locked in their house is completely different from that of those frustrated by their inability to answer questions like "who will survive next? Can we prevent death?" Yes, people lose their beloved ones, but health professionals witness different people die in their hands. If there is a need to tackle this vulnerability, definitely; there is an urgent need to reduce generalization and tackle each issue on its own.
Now that the scope of the issue came to people's awareness, what needs to be done? Government institutions should understand that the mental health care of health care providers matters just as much as that of other citizens. Institutions in charge including ministries of health should create campaigns specific for the mental health of health care providers to keep track of how they are doing during these hard times. The problem with mental health problems is that they are not physically detectable, which makes it difficult to detect until someone gets depressed or takes their life. It might not seem like a big issue, but when thinking about solutions, sustainability should be our priority. We do not need to wait until a lot of medical practitioners commit suicide to see that they are being affected mentally. Mental health is not only about suicide. It is also about thoughts, social wellbeing, and the ability to cope with stress. Mental health services need to be accessible to not only the general population but also medical practitioners themselves. They also need someone to talk too. How will a mentally affected medical practitioner keep up with work after pandemics? There is a need to maintain their mental wellbeing in order to upgrade their performance index for the good of the community at large.
In addition to governments and institutions, medical schools need to learn from these situations as well. Medical students should not only be trained to tolerate the intensity of the patients' conditions but also be mentally prepared even when it gets harder. They should also be reminded to take care of themselves and reach out for help. One of the reasons why heath care providers commit suicide during COVID-19 is mental unpreparedness (Dean, 2020). Nobody knew how bad things would get. However much, more can be done to build mental strength of health care providers to avoid future catastrophes.
Conclusively, if we are really in this together, we should also solve issues together without leaving anyone behind. The mental health of medical practitioners matters, as much as that of the general public. Now that more reports about the existence of mental health issues in medical practitioners have surfaced, more campaigns should be implemented. The world needs to learn from different experienced medical practitioners who have been mentally affected during pandemics. The medical practitioners who committed suicide were the backbones of global health, and not taking action risks more heroes.
Source:
CNN, T. R. (2020, April 28). An ER doctor who continued to treat patients after she recovered from Covid-19 has died by suicide. CNN. https://www.cnn.com/2020/04/28/us/er-doctor-coronavirus-help-death-by-suicide-trnd/index.html
Dean, W. (2020, April 30). Health care worker suicides hint at Covid-19 mental health crisis to come. STAT. https://www.statnews.com/2020/04/30/suicides-two-health-care-workers-hint-at-covid-19-mental-health-crisis-to-come/
Elwafaii, O. (2020, April 29). Why are COVID-19 doctors committing suicide? https://newsus.cgtn.com/news/2020-04-29/Why-are-COVID-19-doctors-committing-suicide--Q4yi8yhYB2/index.html
Tarlton, D. (2020, May 22). Addressing mental health during COVID-19. UNDP. https://www.undp.org/content/undp/en/home/blog/2020/addressing-mental-health-during-covid-19.html
Writer : Nzisabira Joselyne from UGHE