WAITING FOR THE SOVEREIGN CALL (Covid-19 VACCINE)
Corona Virus Coronaviruses are named for the spikes that protrude from their surfaces, resembling a crown or the sun's corona. They can infect both animals and people, and can cause illnesses of the respiratory tract.
At least four types of coronaviruses cause very mild infections every year, like the common cold. Most people get infected with one or more of these viruses at some point in their lives.
The new virus has been named SARS-CoV-2. The disease it causes is called Covid-19.
A novel respiratory virus that originated in Wuhan, China, last December has spread to six continents. Hundreds of thousands have been infected, at least 20,000 people have died and the spread of the coronavirus was called a pandemic by the World Health Organization in March.
Much remains unknown about the virus, including how many people may have very mild or asymptomatic infections, and whether they can transmit the virus. The precise dimensions of the outbreak are hard to know.
How dangerous is it?
Men are more likely to die from an infection compared to women, possibly because they produce weaker immune responses and have higher rates of tobacco consumption, Type 2 diabetes and high blood pressure than women, which may increase the risk of complications following an infection.
Here is how the new coronavirus transmitted
Most respiratory droplets fall to the ground within a few feet. People who are in close contact with those infected, particularly family members and health care workers, may catch the virus this way.
Scientists don't know how long the new coronavirus can live on surfaces, and preliminary research suggests that hot and humid environments may not slow down the pathogen's spread. Warm weather does tend to inhibit influenza and milder coronaviruses.
Infected people may be able to pass on the new coronavirus even if they have few obvious symptoms,
What symptoms should people be aware of
Symptoms of this infection include fever, cough and difficulty breathing or shortness of breath.
The illness causes lung lesions and pneumonia. But milder cases may resemble the flu or a bad cold, making detection difficult.
If you meet some of the above symptoms see your healthcare provider. Call first, so the office can prepare for your visit and take steps to protect other patients and staff from potential exposure.
There is a diagnostic test that can determine if you are infected.
Measures against Coronavirus
⦁ one of the organizations using that measure, bases its recommendation of six feet on the idea that most large droplets that people expel when they cough or sneeze will fall to the ground within six feet. But six feet has never been a magic number that guarantees complete protection. Sneezes, for instance, can launch droplets a lot farther than six feet, according to a recent study.
⦁ keep a face mask on at all times, even when you think you're far enough apart.
⦁ keep washing hands using hand sanitizers or clean water and soaps.
How long will it take to develop a vaccine?
A coronavirus vaccine is still months away — and perhaps years. While new technology, advancements in genomics and improved global coordination have allowed researchers to act quickly, vaccine development remains an expensive and risky process.
I. After the SARS outbreak in 2003, it took researchers about 20 months to get a vaccine ready for human trials. (The vaccine was never needed, because the disease was eventually contained.)
II. By the time of the Zika outbreak in 2015, researchers had brought the vaccine development timeline down to six months.
III. Now, they hope that work from past outbreaks will help cut the timeline further. Scientists at the National Institutes of Health and several companies are working on vaccine candidates.
The best thing is to continuing protect ourselves,
Many countries have also enacted travel restrictions and bans, closing their doors to people from countries with sustained transmission of the virus. Governments around the world have been screening incoming passengers for signs of illness.
here is ho to protect yourself as well as protecting others;
The best thing you can do to avoid getting infected is to follow the same general guidelines that experts such as Rwandan Government emergency Measures, Ministry of Healths,... recommend during flu season , because the coronavirus spreads in much the same way.
Wash your hands frequently throughout the day. Avoid touching your face, and maintain a distance — at least six feet — from anyone who is coughing or sneezing
Is it too late to contain the virus?
W.H.O. officials have credited lockdown measures China imposed in late January for averting the spread of more cases from Wuhan. China sealed off cities, shut down businesses and schools, and ordered residents to remain in their homes. Officials use cellphone data to track and intercept those who have been to Hubei Province.
In recent weeks, government workers have gone door-to-door to round up people who are infected, placing them in stadiums and other buildings that have been converted to makeshift hospitals.
But there is growing fear that containment may no longer be possible
But the ability of nations to prepare for the arrival of coronavirus cases will depend largely on the strength of their health systems, capacity to conduct tests and effectiveness in communicating updates to the public.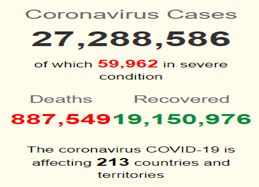 new global updates by SEPTEMBER 6TH 2020 Coronavirus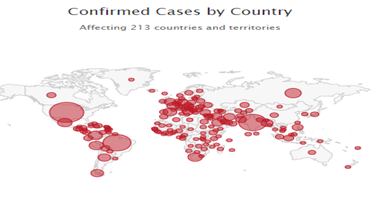 Map: Tracking the Global Outbreak
REFERENCES
Finnish institute for health and welfare(2020). The coronavirus epidemic has reduced social interaction and the use of services. Available at: <https://thl.fi/en/web/thlfi-en/-/the-coronavirus-epidemic-has-reduced-social-interaction-and-the-use-of-services-impact-on-lifestyles-as-well>.
. United Nations development Program (2020). Socio economic impact of covid-19. Available at: <https://www.undp.org/content/undp/en/home/coronavirus/socio-economic-impact-of-covid-19.html>. Accessed August 28th 2020.
Available at Yale School of Medicine (covid.yale.edu/innovation/mapping/childcare/) and Child Care Aware of America (www.childcareaware.org/coronavirus/child-care-essential-workers-coronavirus-outbreak/)
WHO Africa(2020) Response to covid-19 and future challenges. Available at: <https://www.theigc.org/blog/rwasndas-response-to-covid-19-and-future-challenges/>
WHO . (2020, May 29). Facing mental health fallout from the coronavirus pandemic. Retrieved from WHOhttps://www.who.int/news-room/feature-stories/detail/facing-mental-health-fallout-from-the-coronavirus-pandemic
Writer : Hijja UWIMANA from Kibogora Polytechnic