What's Wrong with 2020?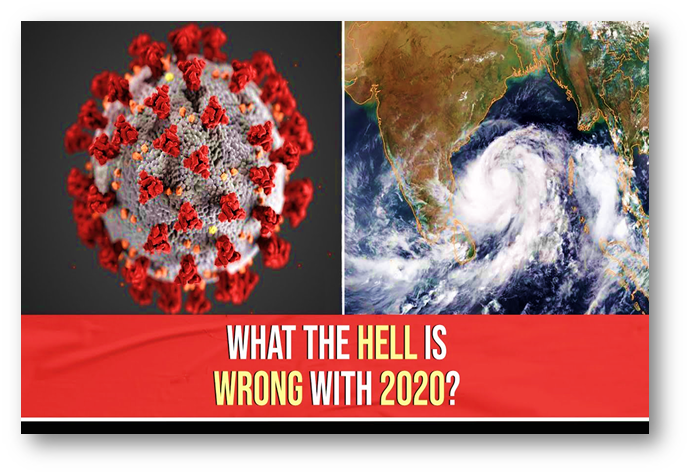 Image: by India Times (2020)
I can't believe this 2020 got wasted this much! In the middle of chaos when everyone is wondering what's wrong with this year, most of us are cursing and blaming 2020 for bringing worst nightmare we all did not want to see! Has anyone thought Kobe Bryant would be long gone with his precious daughter by now or our Black Panther hero, Boseman? Look what happened in Lebanon with the Beirut explosion. In the meantime, the moment I am writing this, it is almost 25,170, 575 coronavirus cases, and almost 846,797 death cases (Worldometer , 2020). Trying to swallow this at the same time, I am going crazy. So, what about you?
Have you spent most of your time, staring at blank space wondering what's going on in this year? Do you ever wonder where we are heading with everything that is happening? Hey, let me remind you one thing, as long as you are alive, it is the only thing that matters. Considering everything happening, it is clear that we have limited control over some of the things, but the good news is we have control over our reactions to them! You can choose to believe that 2020 got wasted or you can accept its reality and make the most out of it. Don't second guess, don't wait any longer, if you still want to make some beautiful experience out of it, the time is now.
It's very heartbreaking that most of us are swallowed by fear which constantly affects our behavior and brings a lot of problems that would have been not there in the first place. Imagine panicking in this pandemic and losing our focus on how life is to be appreciated that we are still alive. Reflect on a lot of people who did not make it this far, what would they say to you if they see how you are living your life nowadays? Would they be proud or would they get disappointed in you? Think! As reported by WHO (2020), unemployment during and after the great depression, coronavirus pandemic, led to an increased incidence of heart disease and unless we act now to address the mental health needs associated with the pandemic, there will be enormous long-term consequences for families, communities, and societies. Then what? Are we going to wait for another nightmare to come or we are starting to act and address mental health needs? The truth is, life will always be filled with a lot of surprises, the only way to expect for good is by doing good.
We are very lucky that we know different tips we can follow to protect ourselves from COVID-19 as well as the distress brought by fear of the unknown. WHO (2020) advises us to follow some simple self-care tips that can make it easier for us to promote our health, prevent diseases, and cope with illness as maintaining health. "Physical distancing, good respiratory hygiene, and handwashing are important examples of self-care actions you can take every day to protect against COVID-19 (WHO, 2020)". This shortlist is easy to follow as long as you want to make the best out of 2020. However, some of us feel isolated and lonely when it comes to social distancing. As a result, our stress and anxiety rise, and there is nowhere to escape them. Well, we know that these public health actions are necessary to reduce the spread of COVID-19. Does this mean it is impossible to take care of ourselves and our loved ones in social distancing? The answer is we can.
We can always support our families, friends, and our community since it is a stress reliever. Have you forgotten about phone calls and video chats? Come on, at least appreciate that the internet made it easier for us. However, it is a wise thing to take breaks from watching, reading, or listening to news stories mainly those on social media because hearing about pandemic repeatedly can be upsetting and exhausting (CDC, 2020). We should take care of our bodies by taking deep breaths, stretching, or meditating. Eating healthy and exercising regularly needs to be followed by getting plenty of sleep with less usage of alcohol and drug use. It is very helpful to unwind by doing activities that we enjoy such as reading books, watching movies, connecting without friends and families as well as connecting with our community online, social media, or via phone (CDC, 2020). These actions reduce stress and stigma and they are proven by healthcare practitioners. So, the choice is yours. Are you choosing to grow or you are choosing to give up on life?
Honestly, 2020 is scary and unpleasant at times, but we can always choose to be positive. Things are being shaky and every time we might find another reason to give up, but life is worth giving while we still can. There will be a time we will think back on how we conduct ourselves in this period and say, we made it. Taking care of our health especially mental health is an obligation we have as people. Not everyone got chances to be here, and no matter how badly they wanted it, they did not get the chance. Yes, a lot will happen and we don't know what the future brings, but still, we can make our lives great. It is everyone's responsibility to judge what to be done to improve their lives and live to their fullest!
References
CDC. (2020, July 1). Coping with Stress. Retrieved from CDC: https://www.cdc.gov/coronavirus/2019-ncov/daily-life-coping/managing-stress-anxiety.html
India Times . (2020, June 10). Is 2020 Really The Worst Year? Retrieved from YouTube : https://www.youtube.com/watch?v=GqJUAgsjS9c
WHO . (2020, May 29). Facing mental health fallout from the coronavirus pandemic. Retrieved from WHO : https://www.who.int/news-room/feature-stories/detail/facing-mental-health-fallout-from-the-coronavirus-pandemic
WHO. (2020, June 12). Self care during COVID-19. Retrieved from WHO: https://www.who.int/news-room/photo-story/photo-story-detail/self-care-during-covid-19#:~:text=Physical%20distancing%2C%20good%20respiratory%20hygiene,disease%20pandemic%2C%20including%20for%20your
Worldometer . (2020, August 30). COVID-19 CORONAVIRUS PANDEMIC . Retrieved from worldometer : https://www.worldometers.info/coronavirus/
Writer : Willine IKIREZI from Southern New Hampshire University